Did you know that if a manufacturer designs a dangerous product they MUST recall all those items and FIX THEM FOR FREE! You can now collect the model information about the appliances in your house and get a

RecallChek

report about all the appliances in your house. It is also an ongoing service that you can utilize anytime you purchase a new appliance for your house. In addition you will receive a monthly newsletter that will inform you if the recall status changes on any of the appliances in your house, as well as receive home maintenance tips.
RecallChek

is the first service for consumer recalls in the United States and has compiled over 195 million recalls from public records, to create a fail-safe system to check for dangerous flaws with home appliances. 
✓ You record the model numbers of your built-in home appliances and HVAC systems.
✓ The Model Number Algorithm (MNA) matches your appliances against the

RecallChek

database of recalled items.
✓ 

RecallChek

issues a report, separate from the home inspection report. This report is emailed directly to you.
✓ This service is intended to provide homeowners with valuable information on how to receive FREE repairs from manufacturers in the event a recalled appliance is found.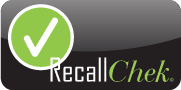 Click to purchase $24.95 Promo Code "Safe House"